About Us
Our Team
All our dentists adhere to the strict guidelines governing the profession under strict guidance from the General Dental Council (GDC) "Standards for Dental Professionals".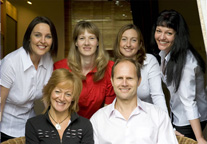 We are very proud to have a great team of staff supporting us in nursing, reception and administrative duties. Without them we would not be able to provide the level of care for our patients that we strive for. They are an invaluable part of a team focused on creating a relaxed, professional and enjoyable patient journey.
Pip Orme
I joined the practice in 2012 to cover maternity leave but have stayed with the team ever since. My background is in community dentistry and I lived in Kent before moving here to join the Baran & Hull team. I am qualified in Dental Nurse Radiography and enjoy utilising my IT skills.
Recently, my partner and I have renovated our new home and garden. My other hobbies include socialising with friends and family, and occasionally using my gym membership!
GDC No. 159815