About Us
Our Team
All our dentists adhere to the strict guidelines governing the profession under strict guidance from the General Dental Council (GDC) "Standards for Dental Professionals".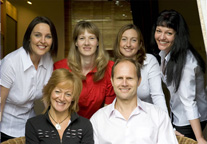 We are very proud to have a great team of staff supporting us in nursing, reception and administrative duties. Without them we would not be able to provide the level of care for our patients that we strive for. They are an invaluable part of a team focused on creating a relaxed, professional and enjoyable patient journey.
Ally Bailey
I have been with the practice for over 16 years and enjoy working as part of a small but well-oiled team. My main interests include maintaining our very high levels of cross infection control and coordinating the Implant department at the practice.
My hobbies are walking my dog Diesel and spending time with family and friends.
GDC No. 105875